New Zealand Romani pay tribute to Christchurch Mosque victims
27 March 2019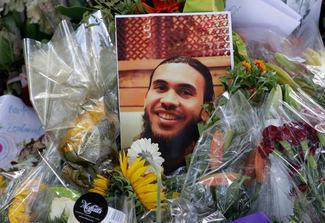 Romani campaigners from New Zealand, Canada and the UK, have paid tribute to Tariq Omar, and other Muslim victims, who were murdered by a terrorist shooter, earlier this month, at Al Noor Mosque in Christchurch, New Zealand.
Tariq Omar, whose mother Rosemary Omar is Romani, was one of the 50 killed at prayer when a gunman armed with automatic weapons targeted two mosques in a shooting spree on Friday 15th March. 38 victims were also wounded and 29 of them remain in hospital.
The gunman left a 'manifesto', or statement of intent, which has been described by experts as being fuelled by far-right ideology and Islamophobia. In a court appearance, the shooter made a gesture with his fist described as a "symbol of white supremacy".

Members of Aotearomani FB group from New Zealand, USA, Canada and UK worked together drafting the statement and a floral tribute and message where left in remembrance.
The statement, which was written in both English and Romanes, read:
"All New Zealand Romani people stand with the Omar family and Muslim people in Christchurch. Our sadness is huge for our brother Tariq Omar who was murdered along with other Muslim folk in this horrible shooting on Friday. All our love to the Omar family and Muslim folk in Christchurch. Stand together all Rom."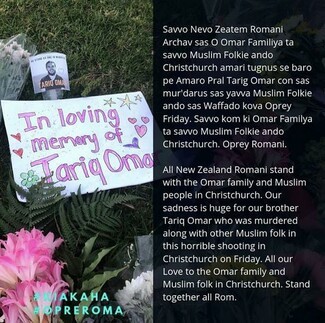 A spokesperson from Aotearomani was at Tariq's memorial which they described as "incredible".
"His three siblings did him so proud, speaking with such love for their brother, and the room was filled with hundreds of people," they said. 
"Tariq had stayed in the mosque to help an injured child while others ran outside. What a hero"
Tributes to the victims have been led by New Zealand Prime Minister Jacinda Arden, who has refused to name the shooter to deny him notoriety, and who described the Muslim victims as "they are us".
Tariq's friends and family have set up a funding page to help pay for his funeral and "something to remember him by." All donations will go to Rosemary Omar: https://www.gofundme.com/tariq-omar?fbclid=IwAR3xxBbnlfqh3-qr1cuXFxX69b0_xpoI99aUp_m5Agg4zIqDE211PvKUeHA
Aotearomani /TT News
---