🎤 Are you an aspiring musician?
27 January 2020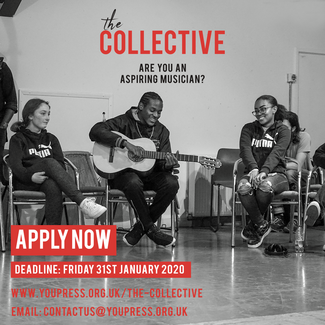 YouPress are looking for vocalists, singers, producers and MC's from across London between the ages 13-25. The project is supported by Youth Music using funding from the National Lottery via Arts Council England
The Collective is an Accredited Artist Development Programme for aspiring musicians (vocalists, singers and MC's from across London) between the ages 13-25 years old. This unique programme is designed to support aspiring musicians to develop their talents and to produce socially conscious music.
They are looking to recruit 15 talented artists who will work towards the creation of original music (some as collectives, some as soloists) that are inspired by social issues and topics in London communities. The selected artists will also have the opportunity to work in a recording studio to record their tracks and produce a collective album - to be published online for streaming.
After the training sessions, studio time – the artists will take part in rehearsal sessions before we host a live performance, showcasing all the original music created by the young people. Artists who show particular commitment and promise will be invited to discuss being managed by You Press for future performances as freelance artists.

The Artist Development Programme will be for 15 weeks between 25th February 2020 and 19th June 2020 (exact dates TBC). The training sessions will take place at Paddington Arts on every Tuesday from 6pm to 9pm and some weekends.

You must fill in the application form before Friday 31st January 2020. To apply and find out more click here:https://bit.ly/37oDzME
---